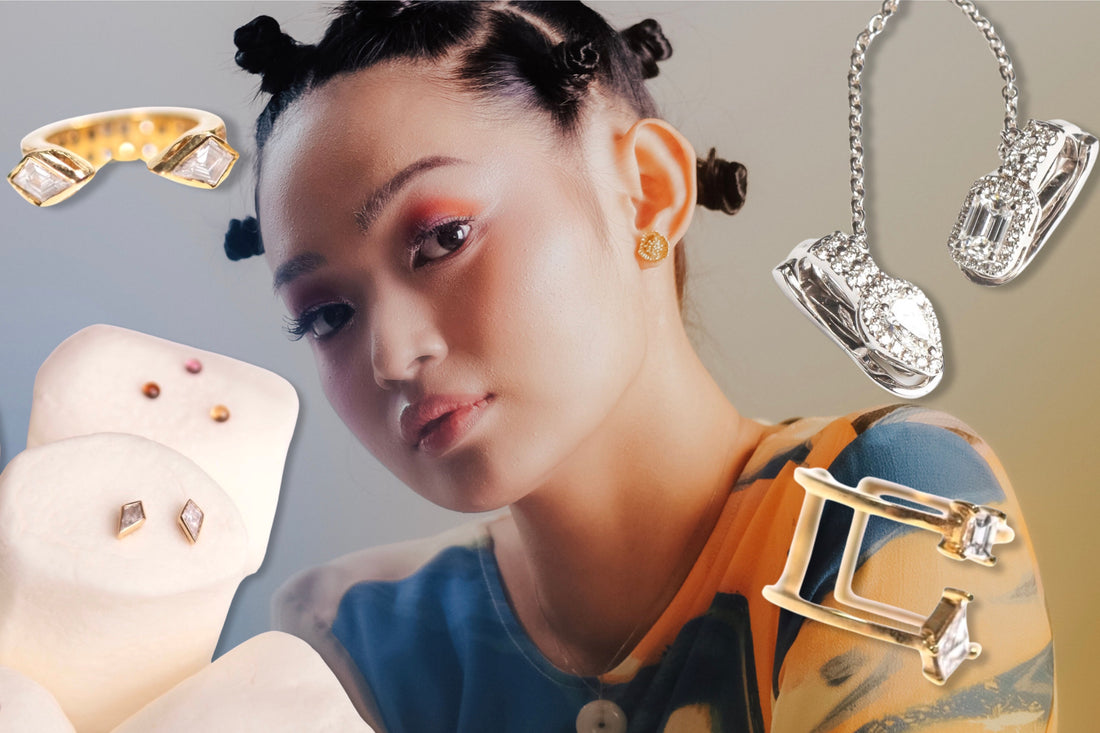 Rock Your Style with the Coolest Ear Pieces for Chic Fashionistas
In the world of fashion, every chic fashionista knows that the right accessories can make or break an outfit. While statement necklaces and dazzling rings have their moments in the spotlight, there's no denying the power of fine jewelry ear pieces to elevate your style and add that touch of sophistication to your overall look. In this blog post, we'll explore the allure of fine jewelry ear pieces, from the timeless classics to the trendy innovations, and how they can make you the epitome of chic and glamour.
1. Cali Kite Luxury Diamond Earrings
The kite-cut diamonds have a beautiful sparkle and brilliance that adds a stunning focal point to the design. Their unique shape adds an extra layer of interest and sophistication to the overall design, making these diamond  earrings a beautiful and versatile addition to any jewelry collection.
The design's simplicity guarantees versatility, making these earrings ideal for both everyday wear and elevating special occasions. Moreover, their enduring appeal and high-quality materials ensure they will be cherished for years to come.
2. Kite Yellow Gold Ear Slider
This 14-karat Kite Yellow Gold Ear Slider is a true work of art. Two 0.10 ct VVS kite-cut diamonds grace the ends, while brilliant round diamonds shine at the center. The combination of these unique diamond cuts creates a stunning contrast that is both modern and timeless.
Expertly cut kite diamonds create a unique, glamorous shape, adding sophistication to the piece. And so, set in a simple yet elegant bezel setting, these diamonds let their natural beauty shine from every angle.
3. Kite & Baguette Cut Ear Slider
Crafted from high-quality 14-karat yellow gold, this Kite & Baguette Cut Gold Ear Slider's  warm hue beautifully complements the diamonds. The metal is polished to a mirror-like finish, adding an extra touch of shine and luster to the piece. The slide is also comfortable to wear, with a smooth and secure fastening that ensures it stays in place all day long.
Overall, This ear slide appeals to those who value the understated beauty of diamonds, adding everyday luxury to their style. Lastly, The square-modified and kite-cut diamonds contrast elegantly, offering a versatile addition to any jewelry collection that's modern yet timeless.
4. Sunshine Earslider
This 14-karat white gold ear slider is a stunning piece of jewelry that exudes both modernism and femininity. The center of the slider features a beautiful orange tourmaline, which is encircled by a delicate row of sparkling diamonds.
The orange pear shape tourmaline is a vibrant shade of 0.30 ct yellow-orange that adds a pop of color to the otherwise pristine white gold. Its smooth surface has been polished to a high shine, creating a lustrous effect that is sure to catch the eye.
5. Cotton Candy Diamond Earslider
Highlighting a cushion-cut morganite and sparkling diamonds, the Cotton Candy Diamond Ear Slider embodies bold, modern elegance. Additionally, crafted from high-quality 14k white gold, it adds sophistication to the design.
Surrounding the morganite gemstone, sparkling diamonds impart glamour and sophistication to the design. Moreover, set in a pavé arrangement, they capture light from all angles, producing a dazzling effect.
6. Brandee Luxury Diamond Earclip
 This 18-karat white gold pavé ear clip is a stunning piece of jewelry that is sure to turn heads. The Brandee Luxury Diamond Earclip features a beautiful combination of diamonds, including an emerald-cut diamond and a pear-shaped diamond. Exceptionally high-quality diamonds grace both sides, set closely in a pavé style to form a shimmering, diamond-encrusted pattern.
When it comes to making a fashion statement, don't underestimate the impact of the right ear pieces. By carefully selecting the perfect ear adornments, you can effortlessly achieve a chic and sophisticated look that will turn heads wherever you go. So, embrace the world of fine jewelry ear pieces, and let your inner fashionista shine!