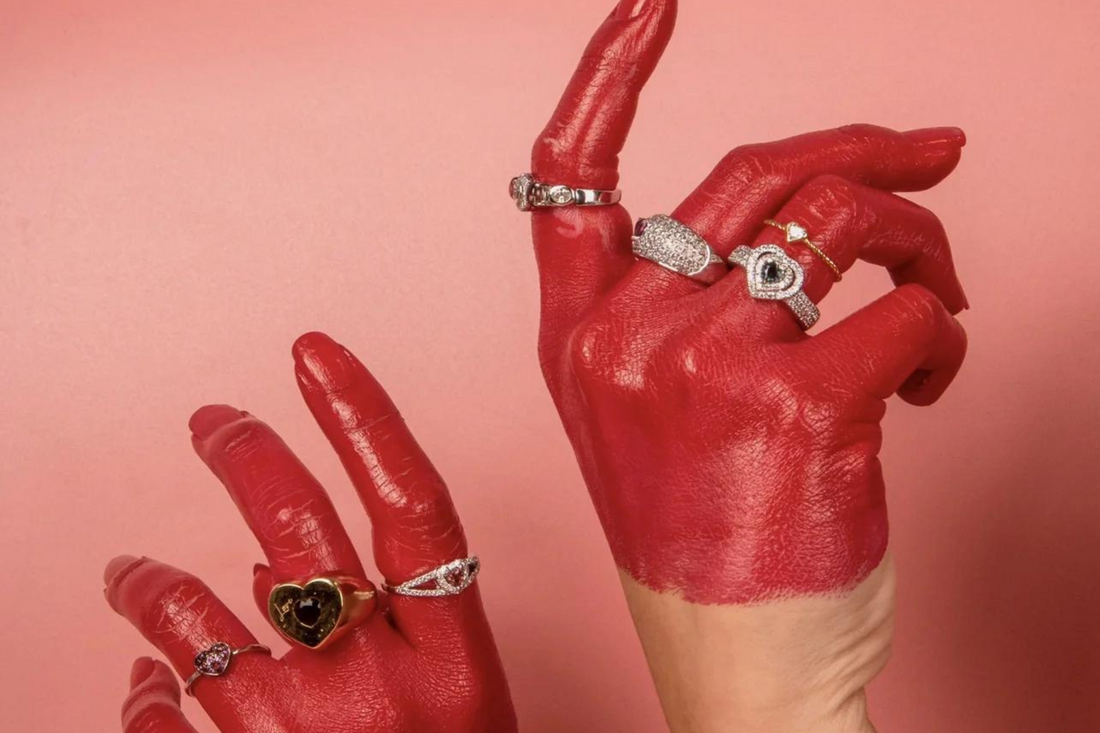 How to know what personalized jewelry color to wear
Choosing the right color of personalized jewelry is a great way to elevate your outfit and express your personal style. However, selecting the right jewelry to wear can sometimes be a challenge, especially when incorporating personalized pieces. We'll provide some tips on how to determine what color jewelry is best suited for your outfits, including personalized jewelry.
Consider Your Skin Tone
One important factor to keep in mind when selecting jewelry is your skin tone. Different metals and gemstones can complement different skin tones. This also applies to personalized jewelry! When choosing personalized pieces, consider the colors and materials that best match your skin tone. Here are a few general guidelines to help you get started:
Cool Undertones: If you have cool undertones, such as fair or rosy skin, silver, platinum, and white gold jewelry tend to complement your complexion. Gemstones like sapphires and emeralds can also enhance your cool undertones.
Warm Undertones: If you have warm undertones, such as olive or golden skin, gold jewelry is a great choice for you. Warm-toned gemstones like topaz, amber, and citrine can also complement your skin tone.
Neutral Undertones: If you have neutral undertones, you have the flexibility to wear both silver and gold jewelry. You can also experiment with a variety of gemstone colors that match your outfit.
Match Personalized Jewelry with Outfit Colors
Another important consideration when choosing jewelry is to complement or match the colors of your outfit. This applies to personalized jewelry as well! Here are some tips to help you achieve a cohesive look:
Neutral Outfits: If you're wearing neutral-colored outfits like black, white, or gray, you have the freedom to play with any color of jewelry, including personalized pieces. Silver and gold jewelry can both work well with neutral tones.
Colorful Outfits: When wearing vibrant or brightly colored outfits, it's generally best to choose jewelry that complements or contrasts with the dominant color. For example, if you're wearing a red dress, you can opt for personalized gold or silver jewelry to add contrast and visual interest.
Multicolored Outfits: When wearing outfits with multiple colors, consider selecting jewelry in a color that matches one of the accent colors in your outfit. This can help tie the entire look together.
Trust Your Intuition
While guidelines and suggestions can be helpful, it's essential to trust your intuition and personal preferences, especially when it comes to personalized jewelry. Ultimately, the most important thing is to wear jewelry that makes you feel confident and reflects your unique style.
By considering your skin tone, matching jewelry with outfit colors, and trusting your intuition, you can confidently choose the right color of jewelry to wear with any outfit, including personalized pieces!
I hope you find this updated post helpful! Remember to trust your instincts and have fun experimenting with your jewelry choices, including personalized pieces.
Sources:
Source: Jewelry Guide For Each Color Type - Your Color Style
Source: What Color Jewelry Goes With Everything? – Detailed Guide