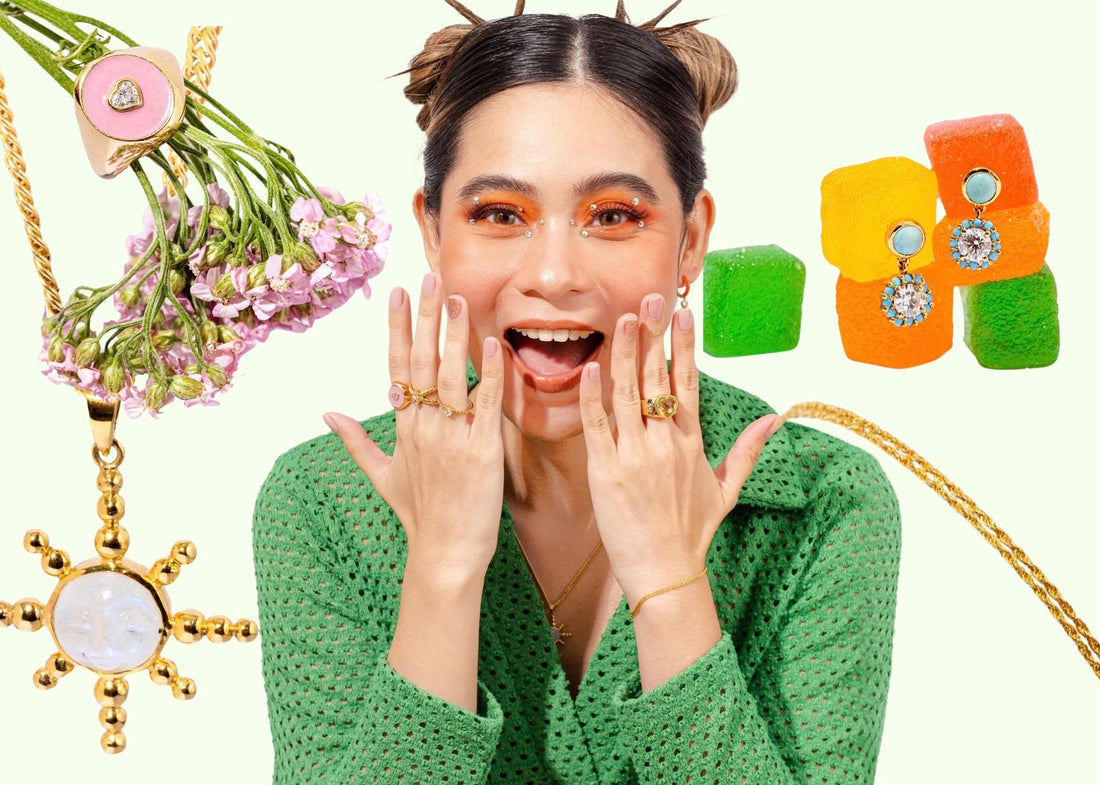 8 Exquisite Fine Jewelry Pieces Perfect For Gifting
Choosing the perfect gift is an art, and when it comes to expressing love, appreciation, or celebration, few things rival the timeless beauty of fine jewelry. Whether it's a special occasion or simply an expression of affection, these exquisite pieces not only captivate with their craftsmanship but also carry sentiments that last a lifetime. Here, we unveil nine breathtaking fine jewelry pieces that are sure to make a statement and leave a lasting impression.
 1. Care Lots Luxury Diamond Ring
Seamlessly combines modern aesthetics with timeless elegance. As a result, this makes it a true symbol of beauty and love, harmoniously showcasing a captivating centerpiece. Furthermore, nestled at its core is a mesmerizing 6.79-carat checkered quartz, boasting a stunning pattern that captures the light and dances with vibrant hues. Embracing the sides of the checkered quartz are two delicately shaped hearts, each adorned with brilliant diamonds. Within this remarkable diamond ring, these exquisite diamonds weigh 0.10 carats each, radiating a VS clarity that ensures their remarkable sparkle. The diamonds possess a pristine F color grade, further enhancing their brilliance and purity.

2. Double Rope Gold Bracelet
The 18 karat yellow gold double rope chain bracelet is a luxurious and elegant piece of jewelry that exudes sophistication and timeless charm.
The bracelet features two strands of rope chain intricately woven together, creating a stunning and unique visual effect. The double rope chain design adds depth and dimension to the bracelet, making it a captivating piece that catches the light and draws attention to the wrist.
3. Naranja Huggies
These mesmerizing earrings boast the perfect fusion of elegance and playfulness. Adorned with two stunning 0.20 Ct heart-shaped diamonds, each exhibiting flawless VS clarity, these huggies are a true testament to refined luxury. The rich orange enamel beautifully contrasts against the lustrous yellow gold, adding a delightful pop of color to any ensemble. With their irresistible allure and impeccable craftsmanship, these huggies are destined to become cherished treasures, celebrating love and style with every wear.
4. Blossom Signet Luxury Diamond Ring
This 18-karat yellow gold signet ring is a truly exceptional piece of jewelry. The warm, rich tone of the gold provides a stunning backdrop for the delicate pink enamel that adorns the face of the ring. The enamel work is expertly crafted, showcasing a soft, pink hue that is both sophisticated and feminine.
At the center of the Blossom Signet Luxury Diamond Ring, you'll find a gorgeous 0.20-carat heart-shaped diamond. The diamond is of exceptional quality, with a brilliant sparkle that catches the light from every angle. Its romantic heart shape is a beautiful complement to the pink enamel, creating a lovely balance of color and form.
5. Moon and Sun Pendant
This exquisite piece features a mesmerizing hand-carved Moonstone, weighing 1.50 carats, nestled within the embrace of a radiant sun motif. The golden rays, intricately crafted from lustrous 14K yellow gold, exude warmth and brilliance, beautifully contrasting with the ethereal glow of the moonstone. The moonstone, with its alluring play of light and mysterious iridescence, adds an enchanting touch to this celestial-inspired pendant.
6. Tanya Earrings
These stunning 14 karat yellow gold earrings showcase a unique and eye-catching design. Each earring features two 0.30 carat turquoise gemstones, perfectly paired to create a balanced and harmonious look. The turquoise stones are set in a classic bezel setting, which allows for maximum light to pass through, enhancing their natural beauty.
Surrounding the diamonds and the turquoise stones are smaller melee size turquoise gems, which add a pop of color and texture to the earrings. These smaller stones are also set in a classic prong setting, which highlights their unique shapes and hues.
7. Saturn Pendant
Drawing inspiration from the captivating planet, this pendant captures the essence of Saturn's majestic beauty.
At the heart of this enchanting piece, a round yellow quartz gemstone takes center stage, reminiscent of Saturn's radiant presence. The yellow quartz exudes a warm, golden glow, mirroring the planet's vibrant hues and adding a touch of celestial elegance to the pendant.
Encircling the yellow quartz is a meticulously crafted gold knife edged ring, mirroring the iconic rings of Saturn. This delicate ring, fashioned from lustrous 10-karat yellow gold, intertwine gracefully, forming a stunning frame for the central gemstone. The intricate details capture the essence of Saturn's captivating allure, while the gold radiates a sense of luxury and sophistication.
8. Stunning Bride Ring
This ring effortlessly combines classic elegance with a modern sensibility, making it the perfect choice for today's discerning brides-to-be. Its versatile design ensures it complements a variety of personal styles, from understated sophistication to contemporary chic.
Fine jewelry is a timeless expression of love, and these eight exquisite pieces offer a range of options to suit different tastes and occasions. From classic diamonds to vibrant gemstones, each piece tells a unique story and is a testament to the enduring beauty of carefully crafted jewelry. Whether you're celebrating a special milestone or simply expressing affection, these fine jewelry pieces are sure to leave a lasting impression on the recipient.